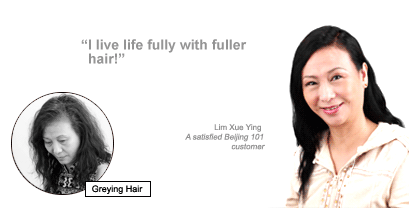 Lim Xue Ying 54 (Greying Hair)

My hair has always been dry and I was also plagued by greying and white hair. I tried a lot of different shampoos and tonics, but it was all in vain. Depressed and dejected, I approached BEIJING 101 for help. It was then I learned that constantly switching between inappropriate shampoos had made my hair even drier. To my shock, I discovered that I had been using the wrong types of shampoo all this while, because I had been choosing my shampoo based on my hair type instead of my scalp type. I was patiently taught crucial basic hair care tips to guide me in lifelong hair care. Now, I live life fully with fuller hair!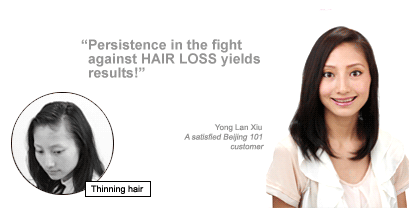 Yong Lan Xiu 21 Student (Thinning hair)


I had resigned myself to the fate of severely thinning hair. So when I sought the help of BEIJING 101, I did not have high expectations. However, with persistence and patience, I found gradual improvement in my hair growth. The amount of hair shed all over my bedroom floor has lessened dramatically.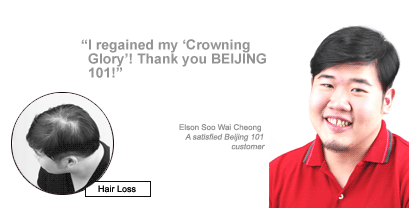 Elson Soo Wai Cheong 25 Teacher (Hair Loss)


I crave the limelight and that's why I also work part-time as a hair model. Due to frequent changes in hair style, I damaged my hair and scalp to the extent that the hair growing on the crown of my head became severely thin. Not only was this a setback to my confidence, it also affected my profession. To hide my hair problem, I had to constantly change my hair parting to cover the fast-thinning patch on my head. Eventually, I gathered my courage to step into BEIJING 101. Under the care of my consultant, I finally solved my problem and regained my Crowning Glory. Thank you BEIJING 101!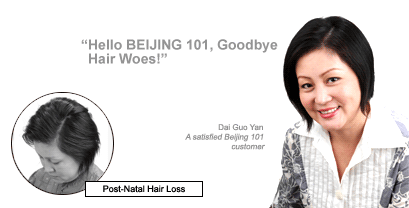 Dai Guo Yan 33 Housewife (Post-Natal Hair Loss)


After my second child, I suffered severe post-natal hair loss. I thought it was a routine shedding of hair that would recover on its own (like it did with my first child). However, to my horror, I discovered that my condition had still not improved after 4 months. I panicked and sought a solution with the expert consultants at BEIJING 101. They conducted a careful analysis, and explained to me that the hair loss was due to the fluctuation of hormones during pregnancy. Although this form of hair loss is usually temporary, there are cases like mine where it could be more persistent. With their help, my hair condition has improved greatly. Goodbye hair woes!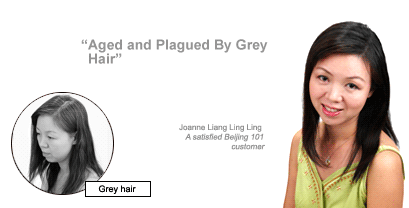 Joanne Liang Ling Ling 38 Housewife (Grey hair)


I was embarrassed by my grey hair. Frequent dyeing had damaged its structure as well. A friend commented that I would look young if not for my grey hair. Her words prompted me to seek help with BEIJING 101. After a course of treatment, not only is my grey hair problem solved; BEIJING 101's premium-grade natural Chinese herbs have restored my chemically damaged hair to its natural lustre. My children especially love running their fingers through my hair now!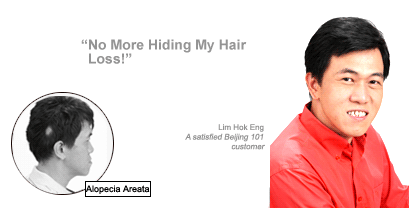 Lim Hok Eng 43 Quality Controller (Alopecia Areata )


I often bask in the limelight doing what I love most - singing. This is why it was such a shock to discover a bald patch on my head. I had no choice but to conceal it with a cap. I decided to visit BEIJING 101 to see the in-house TCM Practitioner. It turned out that I was suffering from Alopecia Areata. The consultant struck a raw note when she mentioned that wearing a cap in the long run is hardly any solution at all. It may even worsen my condition, as the humidity trapped within the scalp may cause sebum and dead skin cells to fester and infect my already delicate hair follicles. After a course of treatments, I found my bald patch growing baby hair. Naturally, I was more than elated to leave both my hair loss and my cap behind at last!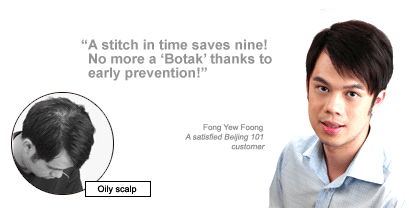 Fong Yew Foong 27 Bank officer (Oily scalp)


My scalp has always been on the oily side. In the beginning, I didnt pay much attention to my hair loss. I merely dismissed it as part and parcel of life's stresses. It was only when my hair starting falling noticeably that I began to panic. Luckily, a solution was at hand with BEIJING 101. I was told that my hair loss was due to my unhealthy lifestyle and eating habits. Under the expert care and patience of my therapist, my hair problem has been solved. Everyone knows that prevention is better than cure! Now, I always coax my friends to seek treatment not just for hair loss, but also to prevent the hair loss even before it happens.